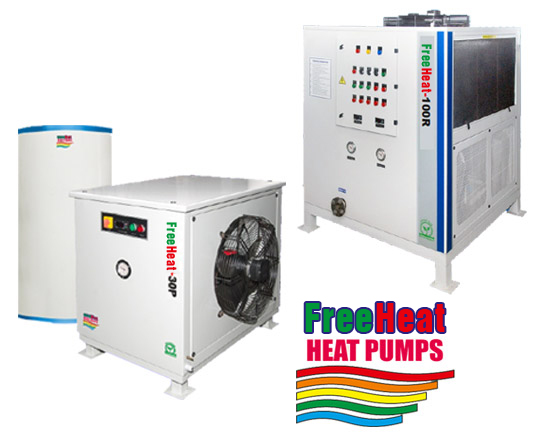 Heat Pumps
We are Manufacturer, Supplier, Exporter of Heat Pumps, Heat Pumps D Series, Heat Pumps P Series, Heat Pumps Pi Series, Heat Pumps for Water Heater System, Industrial Heat Pumps for Water Heater, Heat Pump Hot Water Systems.Our setup is situated in Kolhapur, Maharashtra, India and majorly we serve our customers from all over India, Asia
Heat Pumps are most scientifically designed for your hot water needs. It heats the water with utmost efficiency and saves up to 70% electrical consumption. Standard capacities from 100 liters per hour to 1000 liters per hour are available. Higher rating models can be supplied as per the requirements. With energy cost rising, and carbon footprint increasing, this new 'green' technology is a smart solution to curtail your operational costs! Moreover, all these models can be seamlessly integrated with existing solar water heating systems.

Salient Features

Up to 70% electrical savings
Very low pay back period
Efficient tube in tube coaxial heat exchanger
Use of highly efficient scroll compressor.
Easy maintenance. Use of indigenous parts.
Excellent overall C.O.P.
User friendly operation and easy installation.
Eco-friendly refrigerant.
Highly reliable and long life.
High return on investment.
HEAT PUMP WATER HEATER WORKING PRINCIPLE :

Heat pump water heater transfers heat by circulating refrigerant through a cycle of evaporation and condensation.
A compressor pumps the refrigerant between two heat exchanger coils.
In one coil, the refrigerant with low temperature and pressure absorbs heat from its surrounding air and in the second coil,
the refrigerant with high temperature and pressure transfers heat to water. with high temperature and pressure transfers heat to water.

WATER HEATING MADE MORE EFFICIENT !.
Discover the hot new option to traditional water heaters - Jaguar Integra Heat Pump Water Heaters.
The high-efficiency, low running cost, eco-friendly, low maintenance and durable new water heating solution that beats all other water heating technologies.

HEAT PUMP WATER HEATER - CLEANER, GREENER, SAVER
The Integra Heat Pump Water Heater is an ectrtioic device that transfers heat from air to water.
It is not only more efficient compared to other conventional methods of water heating but also is a clean product which efficiently uses natural air to provide hot water.

How Heat Pump works
The Heat Pump System basically works on Vapour Compression Refrigeration Cycle. The cycle is same as that of a refrigerator, but in this case, the objective is to heat a fluid / space by transferring heat from a lower temperature body with the help of compression system. Apart from the basic system components such as compressor, condenser, drier/filter, expansion device and an evaporator, controls viz HP/LP cut-out, thermostat (temperature controller); and flow switch are incorporated for high performance, and reliability of the system.

ADVANTAGES :

You can obtain 3-4 times more heat output than the compressor input. Hence lot of energy savings.
Assured cut in running cost, once capital cost is recovered.
The technology is upgraded to design and manufacture a reliable equipment.
It is a good option whenever there is constraint for power supply quantum (HP) / space / time